In 2013 legde De Nederlandsche Bank in de studie 'Financieringsproblemen in de hypotheekmarkt' (pdf) keurig uit wat er mis was met Nederland. We spaarden extreem veel en hadden gelijktijdig een onaangenaam hoge schuld. Hoewel beide posten met elkaar in evenwicht waren, betekende de financiering ervan dat Nederland – veel meer dan andere landen – gevoelig was voor wat er op de financiële markten gebeurde.
Zo belegden de pensioenfondsen goeddeels in het buitenland, terwijl Nederlandse banken voor de financiering van de hypotheekschuld juist bij de grillige internationale kapitaalmarkten moesten aankloppen. Als de internationale financiële markten niesden, lagen de Nederlandse huizenmarkt, bankensector en conjunctuur prompt in de lappenmand.
De oplossing lag voor de hand: cut out the middleman. Het spaaroverschot dus gebruiken om dat schuldoverschot te financieren. Langlopende beleggingen met voorspelbare kasstromen: welk pensioenfonds zou daar geen interesse in hebben? Sinds die tijd zien we het marktaandeel van pensioenfondsen in de Nederlandse hypotheekmarkt gestaag oplopen, tot grote tevredenheid van zo'n beetje alle betrokkenen overigens.
Dergelijke directe financieringsmodellen zijn in meerdere markten zichtbaar. Of je nu aan gebundelde bankleningen, directe financiering van infrastructurele projecten of de opkomst van private equity denkt, de trend van beleggen in deze zogeheten 'private markets' is onmiskenbaar.
In een studie (pdf) uitgevoerd in opdracht voor het Noorse staatsfonds becijferde Trond Døskeland begin dit jaar dat private-equity-investeringen in de Verenigde Staten goed waren voor circa 0,6% van de beurswaarde van bedrijven. Maar meer dan het dubbele (1,5%) aan gecommitteerd geld stond klaar om ingezet te worden.
Het meest dynamische deel van de economie
Die 0,6% klinkt misschien niet zo heel erg groot, maar het gaat hierbij doorgaans wel om het meest dynamische deel van de economie, daar waar de hoogste groei en de beste rendementen worden behaald. Het rijmt bovendien met de wereldwijde daling van nieuwe beursgangen en de groei van het aantal zogenaamde unicorns (niet-beursgenoteerde bedrijven met een waardering van meer dan $1 mrd). Waar een beursgang vroeger noodzaak was om voldoende financiering te kunnen veiligstellen, zijn er nu voldoende financieringsmogelijkheden buiten de beurs om.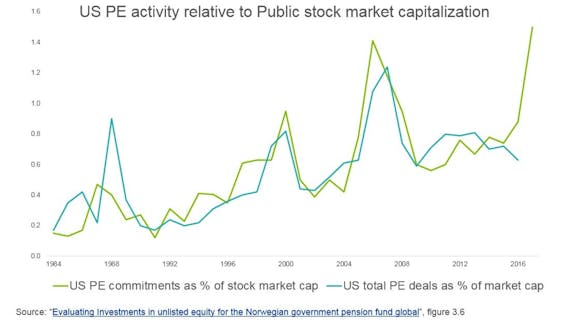 Let wel, beleggen in private markets is zeker niet zonder risico's: ik kan iedereen de studie van Døskeland dan ook van harte aanbevelen. Om daarmee de opkomst van de private markten op voorhand te negeren lijkt me evenmin raadzaam. De Nederlandse hypotheekmarkt is in elk geval een voorbeeld met voornamelijk winnaars.
(origineel gepubliceerd in het Financieele Dagblad van 31 oktober 2018)